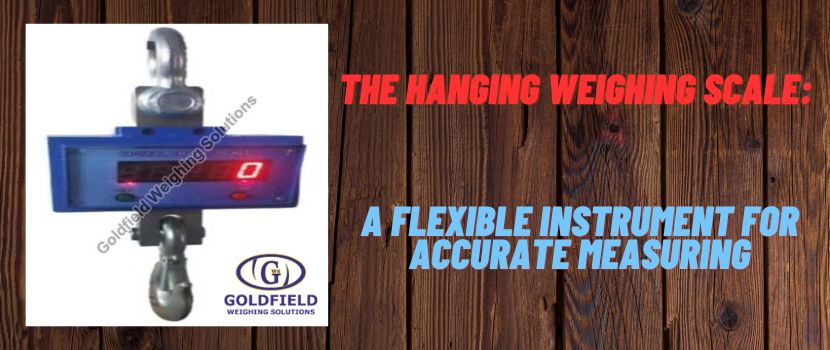 A unique and durable tool with a long history that dates back to ancient civilizations is the hanging weighing scale. From balancing scales to the contemporary hanging scale by Hanging Weighing Scale Manufacturer, its development marks a path of innovation.
Historical Considerations
Ancient cultures that employed crude balancing scales to calculate an object's weight are where the hanging weighing scale first appeared. Early scales often included two pans hanging from either end of a beam or lever.
Key Elements
Several crucial components make up a conventional hanging scale by Hanging Weighing Scale Manufacturer. The strong hook or attachment point that holds the weight being measured is the most noticeable.
A load cell or spring mechanism is attached to this.It is intended to react to the applied force and translate it into a quantifiable weight value. A digital display that shows the weight reading plus a body or housing that protects the scale's internal components.It provides stability and makes up a conventional scale.
Application Flexibility
The adaptability of hanging scales in applications across numerous sectors is one of their most impressive features. In industries as various as agriculture, fishing, manufacturing, shipping, healthcare, and fitness, these scales have shown to be valuable.
Food Production and Farming
Hanging scales are an essential instrument in agriculture. They are used by farmers to weigh cattle to ensure accurate record-keeping and proper feeding. These scales are also essential for accurately managing inventory and weighing collected food, facilitating fair trade.
Seafood and Fishing Industry
To precisely measure the catch, the fishing and shellfish industries rely largely on hanging scales. These scales are essential for confirming adherence to catch limits and encouraging fair trade practices.
Manufacturing and Industrial
To maintain quality standards during manufacturing operations, accurate measurements are essential. When used to weigh components, completed goods, and raw materials, hanging scales help with inventory management and quality control.
Logistics and Shipping
Hanging scales are essential for goods firms. They weigh parcels and goods to precisely calculate transportation costs. These scales also have a significant impact on preventing overloading, which is crucial for both vehicle safety and legal compliance.
Fitness and Health
Hanging scales are frequently used in the healthcare industry to weigh patients who have restricted movement or need specialised care. With the use of these scales, appropriate medicine doses and healthcare monitoring are made possible.
Features and Innovations
The hanging scales of today are very different from those of the past. They include a wide range of features and innovations that increase their value in modern contexts.
Mechanical vs. Digital
Making the switch from mechanical to digital hanging scales is a huge achievement. Digital models are becoming more and more common because of their accuracy, usability, and capacity for weight data storage. They frequently include intuitive user interfaces and simple-to-read digital displays, which make measuring easier.
Budget-Friendly Investment
In the long term, spending money on a high-quality hanging scale is a wise choice. These scales' high levels of accuracy and dependability result in fewer mistakes, more productivity, and better decision-making. By selecting a scale that meets your needs, you're investing in accuracy and quality.
Summary
With its lengthy history and contemporary modifications, the hanging weighing scale is still a vital instrument in many different sectors. For companies and professionals looking for accurate weight measurements, its adaptability, accuracy, and durability make it valuable.
Whether they are used in logistics, agriculture, industry, or the medical field, hanging scales are essential for assuring precise measurements and smooth operations.