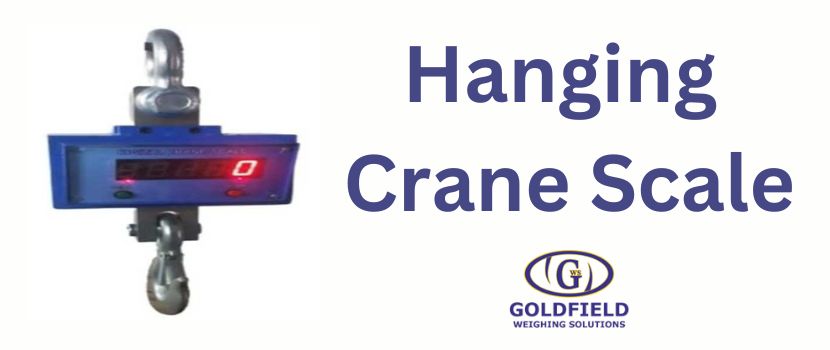 Crane scales, sometimes known as hanging scales, operate slightly differently from standard scales. A cargo is hung using the crane scale's hook rather than placed on a weighing pan or platform. The scale itself may be suspended from tools, hooks, and other equipment.
Users might hold a basic spring hanging scale in their hands to measure a fish. Or, depending on the capacity, mount the hanging scale to a device like a mechanised crane to hoist very big objects. This article will concentrate on a few key characteristics to take into account when buying a heavy-duty hanging scale from a Hanging Weighing Scale Manufacturer.
What Are They Used For?
Fishing nets, baggage, and even measuring fruits and vegetables may all be weighed or measured using hanging scales. Hanging crane scales are frequently used in the industrial sector to weigh extremely big cargo since they can survive demanding circumstances despite having a small, portable structure.
A hanging scale may be stored in a relatively compact container while not in use, unlike a platform scale or a floor scale with a large capacity.
Hanging Scale Features:
A sturdy safety hook guarantees the weight is fastened and contributes to accident avoidance. The huge shackle on Adam's crane scales turns to easily suspend weights. During weighing, the shackle locks into position.
The ability to operate a crane scale remotely is one of its most practical characteristics. Crane scales from a Hanging Weighing Scale Manufacturer may be operated remotely, allowing operators to weigh massive, extremely heavy cargo while keeping a safe distance. Safe, hands-free operation is made possible via the remote control.
The hanging crane scales are protected by sturdy casing so they can resist harsh situations including docks, airports, industries, post offices, and more. The scale should be handled carefully, though. Never fall or bump the scale.
When weighing hay or cattle, lengthy battery life can be quite useful as electricity might not always be accessible. Zoos and conservation parks occasionally weigh large animals like bears and deer on hanging scales.
Things You Need To Know About Hanging Weighing Scale:
● Capacity -
The capacity of your hanging scale is one of the most crucial things to know. While some of these scales can hold up to 50 kg, others can support 10,000 kg.
Knowing the weight of your heaviest object is crucial when looking for a hanging scale or scales in general. This might aid in determining the best scale for your requirements. Always keep in mind that a hanging scale has its limitations, just like everything else. It is advisable to minimise its usage.
● Durability -
A less durable and affordable hanging scale is alluring. But consider this: "Will it withstand the demands of my business?"
Imagine purchasing a less expensive hanging scale, but finding that it loses its accuracy and sharpness after a few uses. The quality of your company may therefore suffer as a result. Although you could always get a new one, purchasing a hanging scale will ultimately help you avoid wasting money.
● Accuracy -
In terms of scales, division size is referred to as accuracy. The Hanging Weighing Scale will show this weight differential as the load grows at its smallest. If your hanging scale is trade-approved or stamped for excellent trade and business reasons, its accuracy will be a key factor in that decision.
● Safety -
For hanging scales to calculate their weight, hanging objects, goods, containers, or products are needed. It is very advised to make sure that it can support the weight that it is carrying. It contains security mechanisms to prevent unforeseen events, thus it should be secure to use.
● Certification -
Weighing scales frequently need to be certified by the ISO, or International Organization for Standardization. This verifies that the scale you are using has met all applicable national weighing scale criteria. In that situation, a calibration procedure will be used to confirm that your hanging scale is ISO-approved.
Benefits Of Using A Hanging Scale:
● Weigh Irregularly Shaped Items -
When put on platform scales, the objects to be weighed must fit precisely. Unfortunately, not all products are offered in uniform shapes and dimensions that are ideal for platform scales.
You may avoid the difficulty of weighing objects with odd shapes by using hanging scales. All you need to do to weigh irregularly shaped items on a crane scale is make sure they have a reliable handle or lifting connection, then use the scale's hook to keep them in place while you weigh them.
● Easy To Use -
Crane scales frequently have straightforward controls and just offer the basic components required for weighing. In comparison to platform scales or other high-capacity scales, smaller hanging scales also take up relatively little room.
Their dimensions make them fit almost any place, taking the stress out of storage. Keep in consideration the size of the shackles and weighing fittings when using bigger capacity units. Wooden crates can be used for storage as components can grow to be rather large and heavy.
● Improves Safety -
Additionally, overhead weighing equipment is portable. You can bring the weighing equipment to the warehouses where the goods are housed rather than moving the items to be weighed.
As a result, accidents and damage are less likely. Additionally, you can utilise units to ensure that the load you are lifting won't overload the lifting apparatus.
● Saves Time -
Transporting large weights requires patience and usually requires bringing your cargo to the scale. Crane scales may be quickly moved to the object to be weighed, cutting down on transit time. Transporting cargo from ships or trucks is made easier by the fact that users may lift and carry weight while weighing.
It's crucial to monitor the scale's capacity. Even though crane scales are robust and made for heavy-duty weighing, it is crucial for users to always stay safe and never exceed the scale's capacity. Making sure the loop you use to attach the crane scale is customised for the item you use it with is another helpful hint.
A Hanging Weighing Scale is used for a variety of applications while having many of the same features. You must be careful while selecting a certain kind since the technical issue has further split the functioning of precise hanging scales.