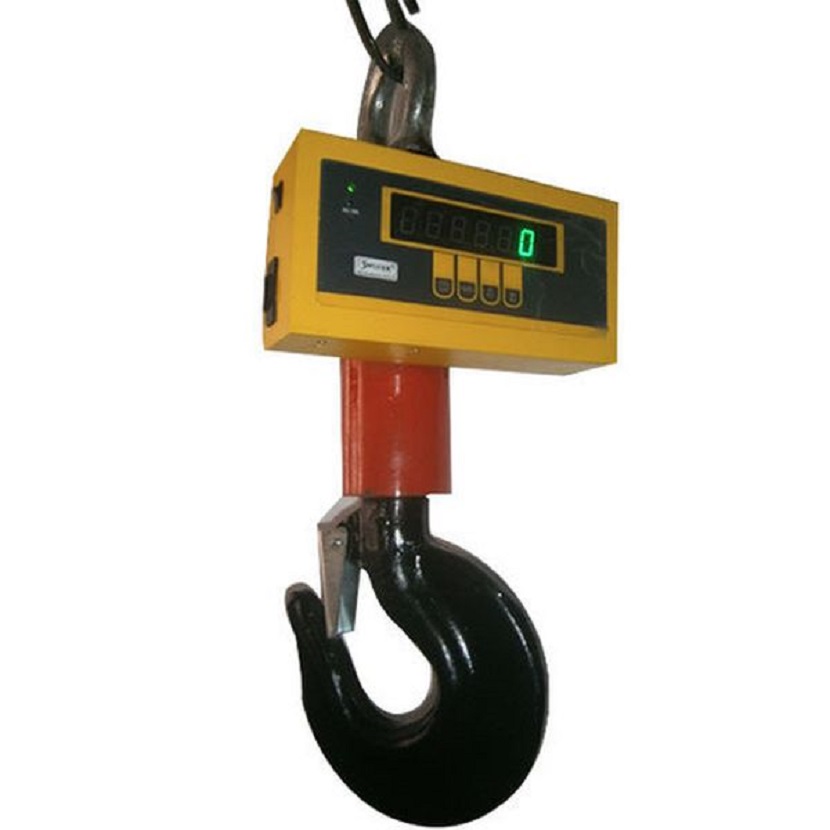 A crane weighing scale is a heavy-duty scale used for suspension weighing of large, heavy items. Using crane scales means you can save floor space, and weigh awkwardly shaped things relatively effortlessly. Crane scales are often used to weigh items to ensure they do not overload a crane or other lifting device as well as to provide a weight for the item to the user.
Uses of Crane Weighing Scale
Crane scales are often used on ships, planes, and trains to make sure cargo is moved and cared for properly, as well as in foundries and storerooms. Crane scales are used to compute both the load and the pressure on the crane. Using digital readouts and printers, workers are able to monitor the cargo during loading or unloading so they do not jeopardize the load or its transportation of it.
How does it work?
Crane scales are battery operated and it is recommended that you charge the scale fully prior to use and that you retain at least 1 spare battery on hand. Crane scales usually come packaged in a box with all the necessary parts.
Once you attach the hook to the digital readout you will need to tare the hook from the measurement and then you will be able to test and make sure that the loads are being weighed properly. You can then swap the measurement increments (pounds to kilograms for example) and start measuring.
By attaching the load to the hook, the digital readout will be able to tell you how much force is being put onto the crane, and how much the load weighs and you will then be able to carry the cargo properly without issues. Be sure to keep your crane scales calibrated and maintained to get precise readouts and data.
Crane scales can be digitally connected to a printer so over time you will be able to collect and examine data. We strongly recommend that you have a professional installation on larger capacity crane scales, and Garber can provide this service for you onsite.
Advantages of Using Crane Weighing Scale
A smaller design makes for easier storage
The phrase small and mighty comes to mind when talking about crane scales because, despite their unbelievable ability to weigh extremely heavy items, they remain very small in comparison.
This makes storing crane scales simple as they can be picked up with less effort and stored pretty much anyplace. They also take up far less floor room than other heavy-duty high capacity weighing scales such as floor scales, so if you're operating in an environment with limited room, crane scales could be for you.
Higher maximum capacities
Crane scales offer some of the highest weight capacities enabling you to weigh even the heaviest of things. Despite this, they remain extremely precise.
Weigh awkwardly shaped items
Weighing pallets or large crates are generally quite straightforward and you can call upon the help of a forklift truck, but what if you're weighing something that is more awkwardly shaped? With a crane scale, this is much more effortless – simply attach a connection and use the scale to weigh, ensuring that any attachment you use is firm and secure before lifting.
This enables less inconvenient and potentially dangerous manoeuvring as things can be picked up and weighed anywhere, even on the back of a truck. With a floor scale, buyers would have to attempt to get the item up onto the scale, which could cause harm to both the scale and users.
Easy to use
Crane scales are normally very easy to use and offer just the fundamental features that are needed for weighing. This makes them a preferable option for users who wish to only weigh items, without the need for features such as check weighing, parts counting or percentage weighing.
Save time on transportation
Transportation of hefty goods can be time-consuming and often means that you have to bring your item to the scale. With a crane scale, you can effortlessly bring the scale to the item that needs weighing, greatly decreasing any transport times. Another convenient characteristic is that users can lift and transport a subject whilst weighing, which is handy for transporting items from ships or lorries.
Choose to deal with the leading Crane Weighing Scale Suppliers and get your crane scales which can be used for weighing bulky and heavy loads. These suppliers have their markets covered in India, Nepal, Bhutan, Sri Lanka, Bangladesh and Indonesia.